Mazda CX-5 Service & Repair Manual: Transfer Removal/Installation [Fw6 Ax EL]
CAUTION:
Performing the following procedures without first removing the front ABS wheel-speed sensor may possibly cause an open circuit in the harness if it is pulled by mistake. Before performing the following procedures, disconnect the front ABS wheel-speed sensor (axle side) and fix it to an appropriate place where the sensor will not be pulled by mistake while servicing the vehicle.

Secure the steering wheel using tape or a cable to prevent the steering shaft from rotating after disconnecting the steering shaft. If the steering wheel rotates after the steering shaft and the steering gear and linkage are disconnected, the internal parts of the clock spring could be damaged.
1. Disconnect the negative battery cable..
2. Remove the propeller shaft..
3. Remove the front crossmember component..
4. Remove the exhaust manifold (WU-TWC)..
5. Remove the front drive shaft (RH)..
6. Remove the heat shield.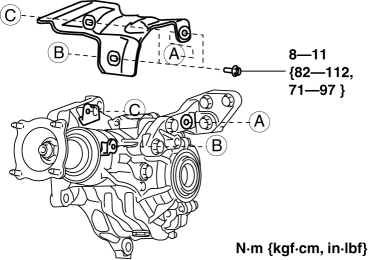 7. Remove in the order indicated in the table.
8. Install in the reverse order of removal.
9. Warm up the engine and transaxle, inspect for oil leakage, and inspect the transfer operation.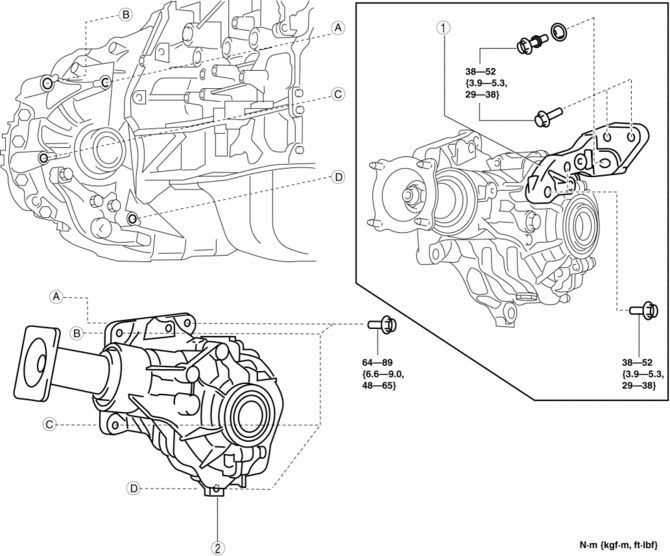 1

Transfer bracket

(See Transfer Bracket Installation Note.)

2

Transfer
Transfer Bracket Installation Note
1. Install the transfer bracket to transfer, then temporarily tighten bolts A and B.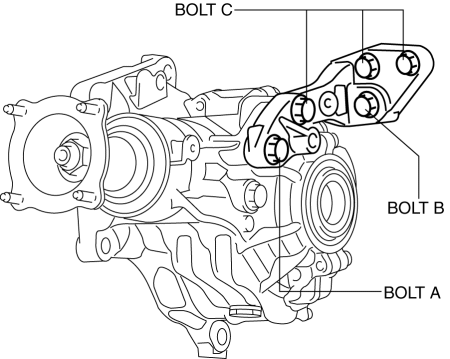 2. Tighten bolts B, A & C in this order.
© 2016-2023 Copyright www.mcx5.org