Mazda CX-5 Service & Repair Manual: Hydraulic Lash Adjuster (Hla) Inspection
HLA Troubleshooting
Item

Occurrence

Possible cause

Action

1

After replacing oil, sound occurs when starting engine

Oil shortage in oil passage

Maintain the engine speed between 2,000 to 3,000 rpm for approx. 2 s and 10 min*, and verify that the sound disappears.

If the sound disappears, the HLA is normal.

If the sound does not disappear, go to item 5.

2

Sound occurs at instant when engine is started on vehicle left for 1 day

3

Starter cranked for 3 s or more and sound occurs directly after engine is started

HLA oil shortage

4

Sound occurs directly after engine is started with newly replaced HLA

5

Sound occurs continuously for 10 min or more

Insufficient oil pressure

HLA malfunction

6

Sound occurs during idling after high-speed driving

Incorrect engine oil level

Engine oil deterioration
*
Period of time engine oil flows to the HLA, this value includes tolerance caused by the ambient temperature and the oil used.
HLA Inspection
1. Disconnect the negative battery cable..
2. Remove the plug hole plate..
3. Remove the ignition coil/ion sensors..
4. Remove the cylinder head cover..
5. Press the rocker arm from above and verify that the HLA does not drop.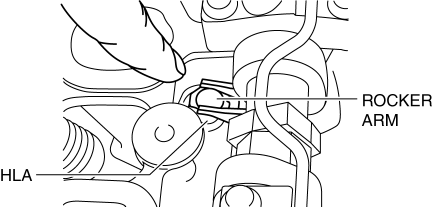 6. Install in the reverse order of removal.
© 2016-2023 Copyright www.mcx5.org