Mazda CX-5 Service & Repair Manual: Roof Carrier Bracket Removal/Installation
1. Disconnect the negative battery cable..
2. Remove the following parts:
a. Sunroof seaming welt (with sunroof system).
b. A-pillar trim.
c. Front map light.
d. Sunvisor.
e. Front scuff plate.
f. Rear scuff plate.
g. B-pillar lower trim.
h. Adjust anchor cover.
i. Upper anchor installation bolt on the seat belt.
j. B-pillar upper trim.
k. Assist handle.
l. Trunk board.
m. Trunk end trim.
n. Trunk side trim.
o. D-pillar trim.
p. C-pillar trim.
q. Headliner.
3. Remove nuts.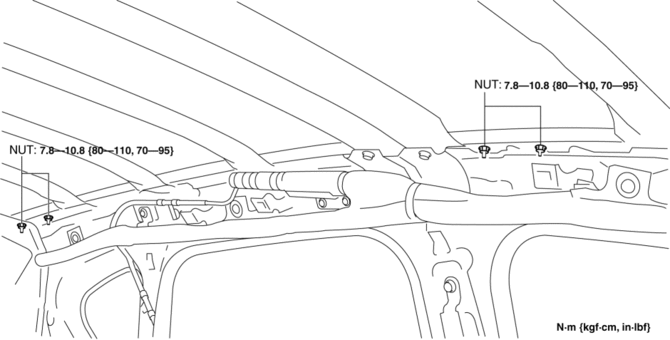 4. Remove the roof carrier brackets.
5. Install in the reverse order of removal.
NOTE:
Install the roof carrier bracket so that the F on it faces vehicle front. (front side)

Install the roof carrier bracket so that the R on it faces vehicle rear. (rear side)



© 2016-2023 Copyright www.mcx5.org