Mazda CX-5 Service & Repair Manual: Ultra High Tension Steel [Construction]
Characteristics of Ultra High-Tensile Steel Plates
Because the strength is maintained even though the plates are thin-walled, the ultra high-tensile steel plates are used for the frames and the main frame parts which form the cabin, reducing the weight of the vehicle.

Enhanced shock absorption has improved the safety.
Range of Use and Cautions for Service
Because the ultra high-tensile steel is hard and it may be difficult to reform, when extracting the damaged part using a frame repair machine, perform the work verifying that other parts are not affected.

When drilling welded parts, use a well-ground drill bit.

After welding, inspect the weld strength. If adhesion is poor, perform arc welding (plug welding).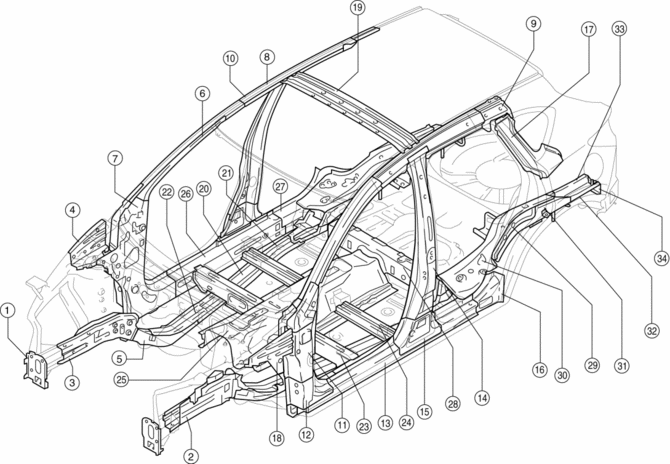 | | | |
| --- | --- | --- |
| NO. | Part Name | Strength (MPa) |
| 1 | Bumper bracket | 590 |
| 2 | Front side frame (outer, rear) | 590 |
| 3 | Front side frame (inner, rear) | 590 |
| 4 | Apron reinforcement No.3 | 590 |
| 5 | Front frame (rear) | 590 |
| 6 | Inner front pillar | 780 |
| 7 | Inner hinge pillar | 590 |
| 8 | Roof rail (inner) | 590 |
| 9 | Roof rail reinforcement | 780 |
| 10 | Front pillar reinforcement | 590 |
| 11 | Hinge reinforcement (upper) | 590 |
| 12 | Hinge reinforcement lower | 590 |
| 13 | Side sill reinforcement | 780 |
| 14 | Center pillar reinforcement (upper) | 980 |
| 15 | Center pillar reinforcement (lower) | 590 |
| 16 | Side sill reinforcement (rear) | 590 |
| 17 | Suspension housing reinforcement (upper) | 780 |
| 18 | Lower cowl side reinforcement (rear) | 590 |
| 19 | Roof reinforcement No.2 | 590 |
| 20 | Front B frame front | 590 |
| 21 | Front B frame rear | 590 |
| 22 | Floor reinforcement | 780 |
| 23 | Crossmember No.2 | 590 |
| 24 | Crossmember No.2.5 | 780 |
| 25 | Tunnel reinforcement | 590 |
| 26 | Side sill (inner, front) | 590 |
| 27 | Side sill (inner, rear) | 780 |
| 28 | Crossmember No.3 (lower) | 590 |
| 29 | Rear frame reinforcement | 590 |
| 30 | Rear side frame (front) | 590 |
| 31 | Rear side frame (center) | 590 |
| 32 | Rear side frame (rear) | 590 |
| 33 | Floor side panel No.1 | 590 |
| 34 | Rear bumper bracket | 590 |
© 2016-2023 Copyright www.mcx5.org