Mazda CX-5 Service & Repair Manual: Steering Gear And Linkage Inspection
1. Remove the steering gear and linkage..
2. Remove the tie-rod end and boot..
3. Measure the rotation torque of the pinion shaft using a crescent wrench and pull scale. (speed measurement reference 5 В°/s
)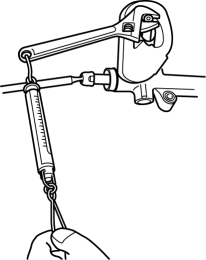 a. Install the crescent wrench to the steering gear.
b. Measure the length from the pinion shaft center to the crescent wrench end (application point of pull scale) as shown in the figure. This is dimension A.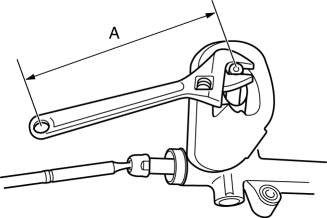 c. The rotation torque of the pinion shaft can be calculated using the following formula Measured value using pull scale (N {kgf, lbf}) = rotation torque of the pinion shaft (NВ·m {kgfВ·cm, inВ·lbf})/length A (m {cm, in})
Pinion shaft rotation torque (center of rack В± 180В°)

1.0—1.6 N·m {11—16 kgf·cm, 8.9—14 in·lbf} [Pull scale reading: 1.0—1.6 N·m {11—16 kgf·cm, 8.9—14 in·lbf}/A (m {cm, in})]
© 2016-2023 Copyright www.mcx5.org