Mazda CX-5 Service & Repair Manual: Clock Spring Removal/Installation [Two Step Deployment Control System]
CAUTION:
If the disc on the combination switch is deformed or has foreign material adhering to it, performance of the steering angle sensor may be reduced, causing abnormal operation. When handling the clock spring, be careful not to deform the disc and make sure there is no foreign material on it.
1. Switch the ignition to off.
2. Disconnect the negative battery cable and wait for 1 min or more
..
3. Remove the driver?side air bag module..
4. Remove the steering wheel..
5. Remove the column cover..
6. Disconnect the clock spring connector.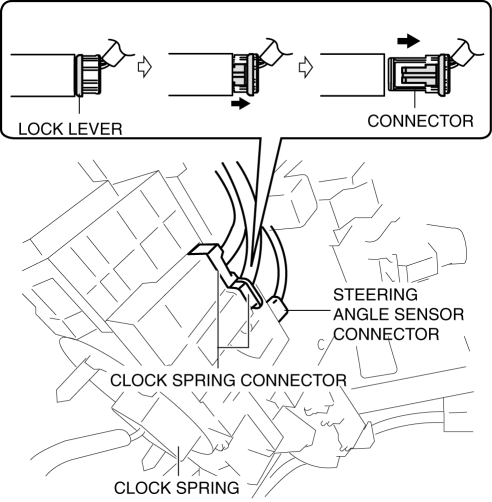 7. Disconnect the steering angle sensor connector. (with steering angle sensor)
8. Remove the tab direction of the arrow shown in the figure and remove the clock spring.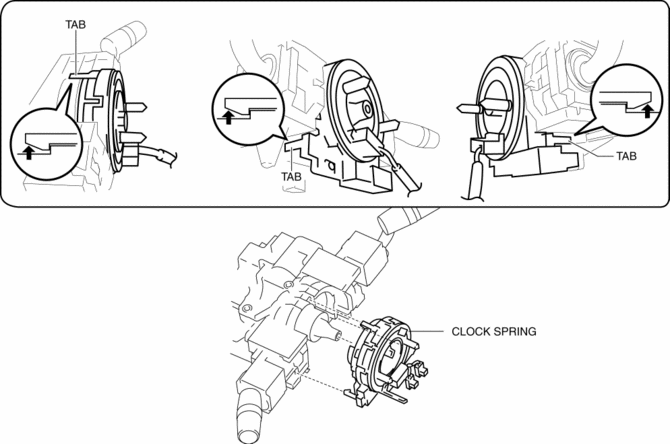 9. Install in the reverse order of removal..
10. Verify that the air bag system warning light illuminates for approx. 6 s
and goes out.
Clock Spring Installation Note
CAUTION:
© 2016-2023 Copyright www.mcx5.org