Mazda CX-5 Service & Repair Manual: Climate Control Unit Inspection [Manual Air Conditioner]
1. Remove the climate control unit with the connector connected..
2. Switch the ignition ON (engine off or on).
3. Connect the negative (-) lead of the tester to the body ground.
4. By inserting the positive (+) lead of the tester into the climate control unit connector, measure the voltage according to the terminal voltage table.

Terminal Voltage Table (Reference)
Terminal

Signal name

Connected to

Measurement condition

Voltage (V)

Inspection item(s)

A

TNS signal

Front body control module (FBCM)

TNS OFF

1.0 or less

TNS ON

B+

B

Illumination (-)

Instrument cluster

Headlight ON and panel light control MAX

2.0

Instrument cluster

Related wiring harness

Headlight ON and panel light control MIN

9.65

C

Motor operation

Air intake actuator

Switched to RECIRCULATE

B+

Switched to FRESH

1.0 or less

D

Ground

Body ground

Under any condition

1.0 or less

E

Motor operation

Air intake actuator

Switched to RECIRCULATE

1.0 or less

Switched to FRESH

B+

F

Sensor GND

Evaporator temperature sensor

Under any condition

1.0 or less

G

Blower fan ON/OFF signal

Fan switch

Fan stopped

B+

Fan on

1.0 or less

H

Evaporator temperature sensor input

Evaporator temperature sensor

Compared with temperature detected by evaporator temperature sensor

Refer to graph 1

Related wiring harness

Evaporator temperature sensor

Climate control unit: terminal voltage (F)

I

Blower fan position signal

Fan switch

3rd, 4th

1.0 or less

off, 1st, 2nd

B+

J

B+

ROOM 15 A fuse

Under any condition

B+

Related wiring harness

ROOM 15 A fuse

K

LIN

Front body control module (FBCM)

Because this terminal is for communication, good/no good judgment by terminal voltage is not possible.

L

IG2

Front body control module (FBCM)

Switch the ignition to ON

B+

Switch the ignition off

1.0 or less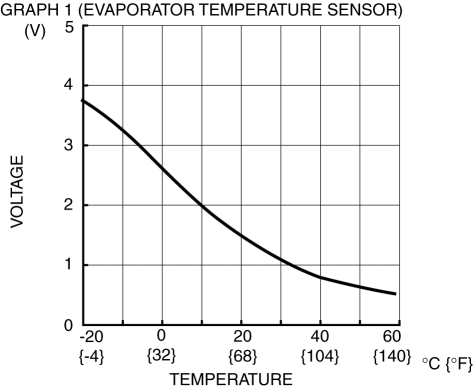 © 2016-2023 Copyright www.mcx5.org