Mazda CX-5 Service & Repair Manual: Awd Control Module Inspection
NOTE:
AWD CM terminal voltage can vary depending on measuring conditions and vehicle aging, resulting in misdiagnosis. Therefore, it is necessary to perform an overall inspection of the input/output systems and AWD CM to determine which part is malfunctioning.

With the AWD CM connector connected, measure voltage by connecting the voltmeter negative (-) lead to the body ground and positive (+) lead to each AWD CM terminal.
1. Measure voltage or resistance at each AWD CM terminal using a voltmeter and an ohmmeter.
Terminal Voltage List (Reference)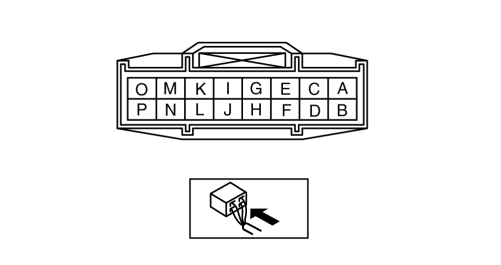 Terminal

Signal

Input/ output

Connected to

Measuring item

Test condition

Voltage (V)/ Continuity

Inspection location in case of failure

A

Differential oil temperature sensor signal

Input

Differential oil temperature sensor

Voltage

Ignition key ON (engine off or on)

Differential oil temperature

20°C {68°F}

3.0

Differential oil temperature

60°C {140°F}

1.4

B

—

—

—

—

—

—

—

—

C

Differential oil temperature sensor GND

—

Differential oil temperature sensor

Continuity

Any condition

Yes

D

—

—

—

—

—

—

—

—

E

—

—

—

—

—

—

—

—

F

—

—

—

—

—

—

—

—

G

CAN_H

Input/ output

—

Perform measurement during DTC inspection.

—

H

CAN_L

Input/ output

—

Perform measurement during DTC inspection.

—

I

Power supply (Ignition switch)

Input

Ignition key

Voltage

Ignition key ON (engine off or on)

B+

Inspect fuse

Inspect related harness

Ignition key OFF

1.0 or below

J

—

—

—

—

—

—

—

—

K

Power supply (Main)

Input

Battery

Voltage

Any condition

B+

Inspect fuse

Inspect related harness

L

—

—

—

—

—

—

—

—

M

—

—

—

—

—

—

—

—

N

Ground

—

Ground

Voltage

Any condition

0

O

AWD solenoid (+)

Output

AWD solenoid

Voltage

Ignition key ON (engine off or on)

B+

AWD solenoid

Inspect related harness

Ignition key OFF

1.0 or below

P

AWD solenoid (-)

Output

AWD solenoid

Voltage

Ignition key ON (engine off or on)

B+

AWD solenoid

Inspect related harness

Ignition key OFF

1.0 or below
© 2016-2023 Copyright www.mcx5.org