Mazda CX-5 Service & Repair Manual: A/C Compressor
Purpose
The A/C compressor circulates the refrigerant in the refrigerant cycle.

The A/C compressor compresses the gaseous refrigerant atomized by the evaporator, and by pressurizing the gaseous refrigerant, liquification by the condenser is facilitated.
Function
Construction
The A/C compressor has adopted a swash plate type compressor.

The A/C compressor consists of the following parts:




Shaft

Swash plate

Cylinder

Piston
Operation
When the drive force from the engine is transmitted to the compressor shaft by the operation of the magnetic clutch, the A/C compressor rotates the swash plate in the compressor. The rotation of the swash plate generates compression in the cylinder by the reciprocating movement of the piston.
1. When the piston moves downward, the suction valve opens and the refrigerant is discharged to the cylinder.
2. When the piston reaches the BDC, refrigerant charging is completed and the suction valve is closed.
3. When the piston moves upward, the refrigerant in the cylinder is compressed.
4. The compressed refrigerant presses open the discharge valve, and the high-temperature, highly pressurized refrigerant from the cylinder is discharged.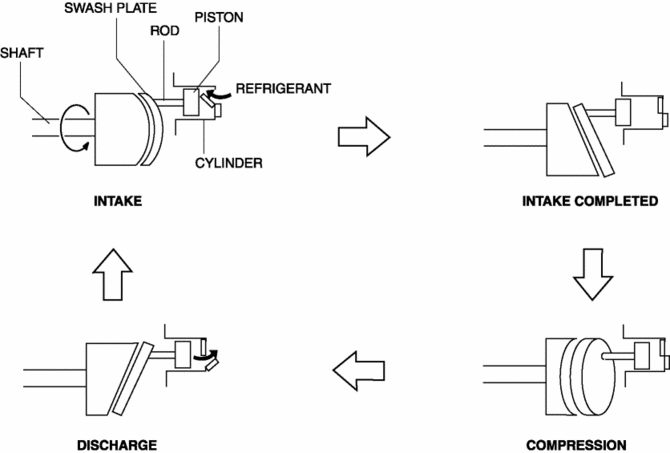 Fail-safe
© 2016-2023 Copyright www.mcx5.org