Mazda CX-5 Service & Repair Manual: Refrigerant Pressure Check
NOTE:
Measure the refrigerant pressure after approx.10 min

have elapsed from engine start.
1. Install the manifold gauge..
2. Start the engine and warm it up.
3. Set the fan speed MAX HI.
4. Turn the A/C switch on.
5. Set to RECIRCULATE mode.
6. Set the temperature control to MAX COLD.
7. Set to VENT mode.
8. Close all the doors and all the windows.
9. Maintain the engine speed at 1,500 rpm
.
10. Measure the ambient temperature and high- and low- pressure side reading of the manifold gauge.
11. Verify that the intersection of the pressure reading of the manifold gauge and ambient temperature is in the shaded zone.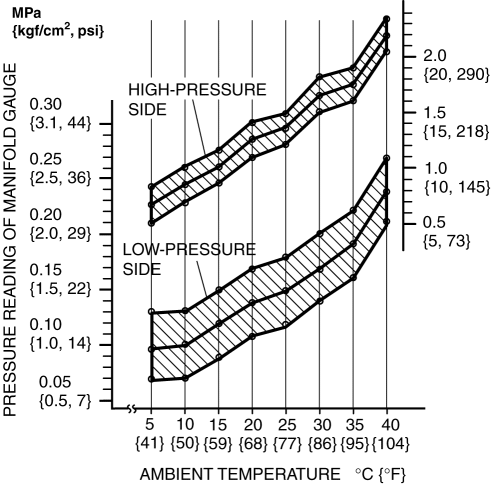 © 2016-2023 Copyright www.mcx5.org