Mazda CX-5 Service & Repair Manual: Generator Control [Skyactiv G 2.0]
Outline
Idling stability has been improved by optimum control of generator voltage according to engine operation and electrical load conditions.

The PCM determines the engine operation and electrical load conditions based on the input signals from each control part and controls the energization time of the generator field coils.
Block Diagram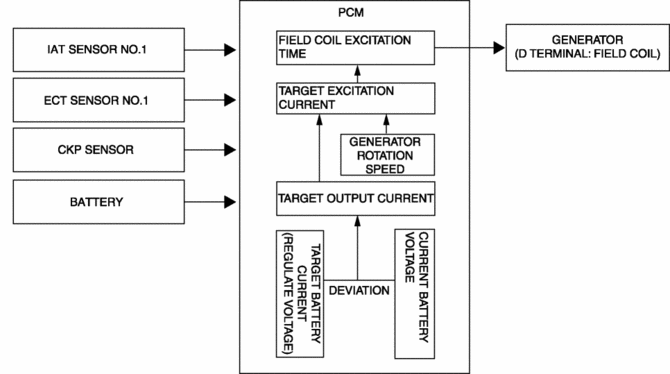 Operation
Determination method for target excitation current
The target excitation current is calculated from the generator target output amount (determined by intake air temperature, engine speed, and vehicle speed), and the actual generator rotation speed.
Determination method for field coil excitation time
The PCM increases or decreases the field coil excitation current by sending a duty signal to the power transistor built into the generator.

The field coil energization current changes according to changes in the power transistor excitation time by changing the duty signal duty ratio. For example, when the battery positive voltage drops, the duty ratio of the duty signal sent to the power transistor is larger, increasing the field coil excitation current.



During deceleration fuel-cut, the PCM increases the generator voltage and stores electricity in the battery. At times other than deceleration, the PCM enables electric discharge from the battery to reduce the generator load.

Directly after the engine is started, the generator load is decreased by charging only to the necessary level according to the battery conditions in which the battery has not been charged to the maximum.
© 2016-2023 Copyright www.mcx5.org