Mazda CX-5 Service & Repair Manual: Fuel Pump Unit Disassembly/Assembly
WARNING:
Fuel is very flammable liquid. If fuel spills or leaks from the pressurized fuel system, it will cause serious injury or death and facility breakage. Fuel can also irritate skin and eyes. To prevent this, always complete the "Fuel Line Safety Procedure", while referring to "BEFORE SERVICE PRECAUTION".

A person charged with static electricity could cause a fire or explosion, resulting in death or serious injury. Before draining fuel, make sure to discharge static electricity by touching the vehicle body.
CAUTION:
Disconnecting/connecting the quick release connector without cleaning it may cause damage to the fuel pipe and quick release connector. Always clean the quick release connector joint area before disconnecting/connecting using a cloth or soft brush, and make sure that it is free of foreign material.
1. Complete the "BEFORE SERVICE PRECAUTION"..
2. Using the following procedure:
CAUTION:
Because the fuel surface is higher than the fuel pump unit installation surface, if the set plate is removed, it may result in fuel leakage. If the fuel gauge level indicates 1/2 or more, refer to the fuel draining procedure and drain 20 liters of fuel.
Fuel gauge indicates 1/2 or more

Drain the fuel..
3. Remove the following part:
4. Remove the fuel pump unit..
5. Disassemble in the order indicated in the table.
6. Assemble in the reverse order of disassembly.
7. Install in the reverse order of removal.
8. Complete the "AFTER SERVICE PRECAUTION"..
2WD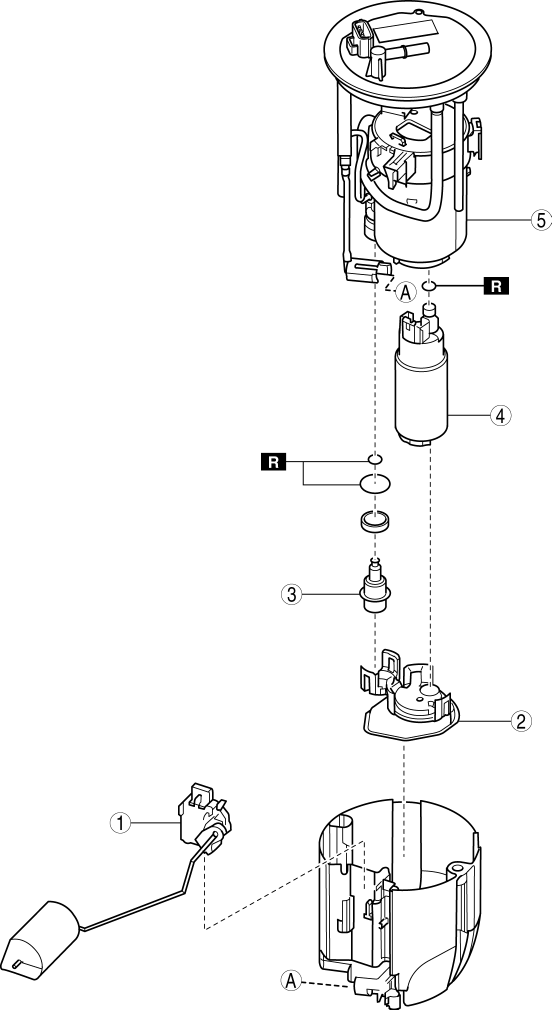 | | |
| --- | --- |
| 1 | Fuel gauge sender unit |
| 2 | Fuel filter (low-pressure) |
| 3 | Pressure regulator |
| 4 | Fuel pump |
| 5 | Fuel filter (high-pressure) |
AWD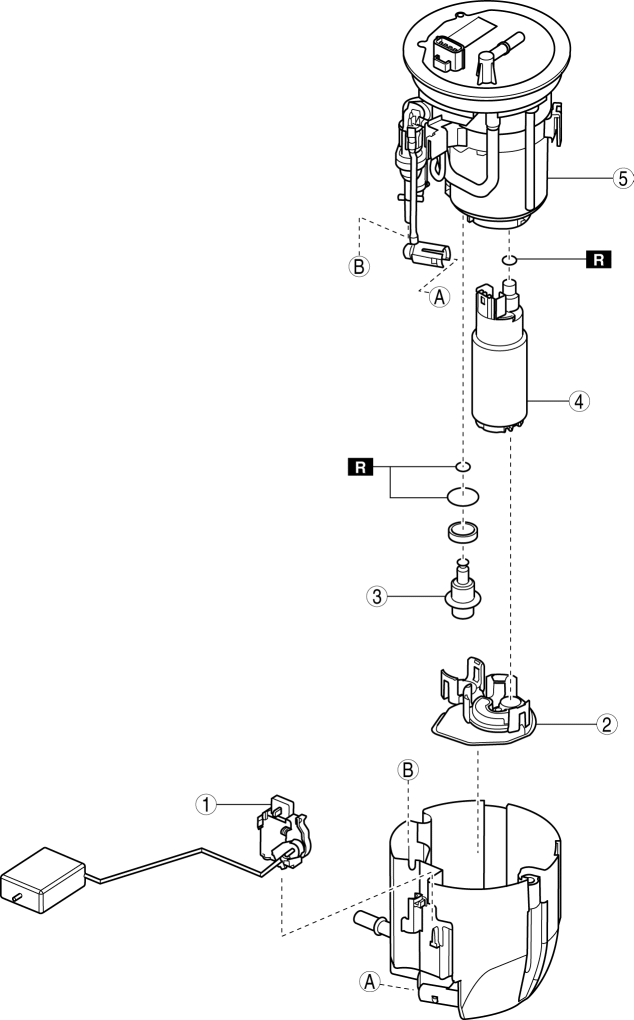 | | |
| --- | --- |
| 1 | Fuel gauge sender unit |
| 2 | Fuel filter (low-pressure) |
| 3 | Pressure regulator |
| 4 | Fuel pump |
| 5 | Fuel filter (high-pressure) |
© 2016-2023 Copyright www.mcx5.org