Mazda CX-5 Service & Repair Manual: Side Air Bag Module [Standard Deployment Control System]
Purpose
When a side air bag module receives an impact from a lateral collision, the operation (deployment) of the air bag mediates the impact to the chest, stomach, and waist of the driver and front passenger.
Function

Construction
The side air bag modules are installed on the door side of the front seat backs.

The side air bag module consists of the inflator and air bag.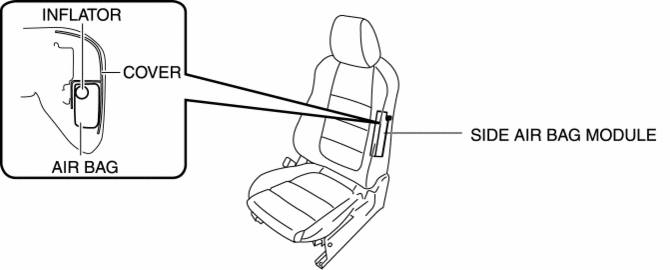 Operation
The side air bag module operates (deploys) the air bag by activating the internal inflator.

The inflator operates (deploys) in the following order:
1. When an operation (deployment) signal is received from the SAS control module, the initiator built into the inflator is ignited which ignites the booster charge.

2. The high temperature gas flows into the combustion chamber from the nozzle to ignite the main propellant.
3. The seal tape is broken by the internal pressure in the combustion chamber, and the gas is sprayed out of the inflator through the diffuser (diffusion devise).
4. When the side air bag module operates (deploys), the air bag operates (deploys) while breaking open the seat back trim by the force of gas generated from the inflator.
Fail-safe
© 2016-2023 Copyright www.mcx5.org