Mazda CX-5 Service & Repair Manual: Relay And Fuse Block
Purpose
Function
Construction
Operation
Relay operation
1. When electric current flows to the coil, electromagnetic power is generated.
2. The switch is attracted by the generated electromagnetic power and it switches on.
3. Electric current flows to each part that is downstream of the switch.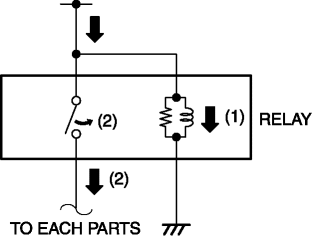 Fuse operation
1. If electric current to each fuse is the specified value or more, the fuse melts due to heat generation.
2. Interrupts electric current flow downstream of the fuse.
Fail-safe
© 2016-2023 Copyright www.mcx5.org