Mazda CX-5 Service & Repair Manual: Purge Control
Outline
An appropriate amount of evaporative gas is fed into the intake manifold by the purge solenoid valve operation according to the engine operation conditions. This ensures driveability and prevents release of evaporative gas into the atmosphere.

The PCM drives the purge solenoid valve based on the signal from each control part.
Block Diagram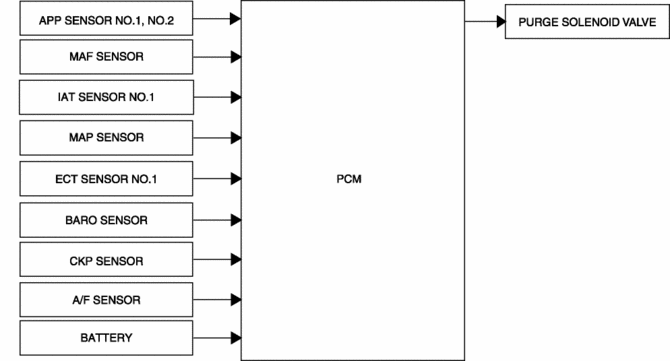 Operation
Determination of purge solenoid valve energization time
The PCM determines energization time based on purge flow amount. In addition, it corrects the energization time according to fluctuations in battery positive voltage (the lower the rate of battery positive voltage, the longer the energization time).
Calculation method for purge flow amount
Contents

Calculation or determination method of purge flow amount and correction

Target purge flow amount

The target purge flow amount is determined by multiplying the correction for the intake air temperature and the fuel evaporative gas concentration with the purge mass volume. The purge mass volume is calculated from the purge intake rate for the intake air mass volume which differs according to engine conditions.

Correction

Startup correction

Purpose: Prevents a change in the air/fuel ratio due to a purge intake lacking evaporative gas concentration in the charcoal canister.

Volume decrease correction

Purpose: Decreases the purge flow amount and stabilizes the air/fuel ratio.
Purge control image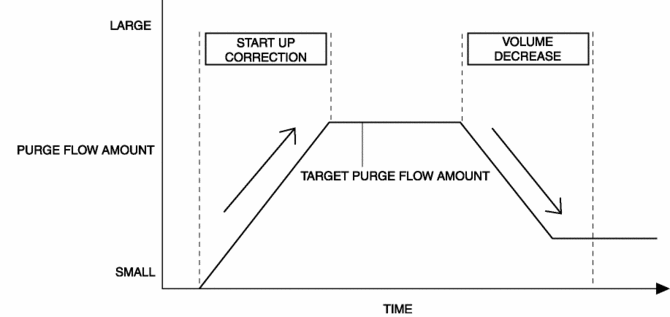 Operation condition
© 2016-2023 Copyright www.mcx5.org