Mazda CX-5 Service & Repair Manual: Lift Motor Inspection
WARNING:
Handling a side air bag improperly can accidentally operate (deploy) the air bag, which may seriously injure you. Read the service warnings/cautions in the Workshop Manual before handling the front seat (side air bag integrated)..
1. Disconnect the negative battery cable and wait for 1 min
..
2. Remove the front sear side cover..
3. Disconnect the lift motor connector.
4. Apply battery positive voltage to the lift motor terminals and inspect the front seat operation.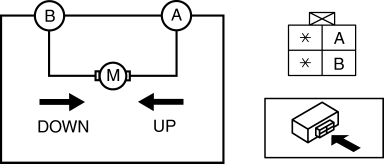 Front seat operation

Connection

A

B

Up

B+

GND

Down

GND

B+
© 2016-2023 Copyright www.mcx5.org