Mazda CX-5 Service & Repair Manual: Engine Coolant Protection Inspection
1. Measure the engine coolant temperature and specific gravity using a thermometer and a hydrometer.
CAUTION:
Use engine coolant at a concentration that meets the environmental conditions in which the vehicle is driven, otherwise engine damage could occur.

The engine has aluminum parts and must be protected by an ethylene-glycol-based coolant to prevent corrosion and freezing.

Do not use coolants containing Alcohol, Methanol, Borate or Silicate. These coolants could damage the cooling system.

Use only soft (demineralized) water in the coolant mixture. Water that contains minerals will cut down on the coolant's effectiveness.

Engine coolant damages paint. If engine coolant does get on a painted surface, rinse it off quickly.
NOTE:
If the "FL22" mark is shown on or near the cooling system cap, use Mazda Genuine FL22 engine coolant.




FL22 type engine coolant is shipped as a diluted solution. Use the solution as is when replacing coolant.
2. Determine the engine coolant protection level by referring to the graph shown in the figure.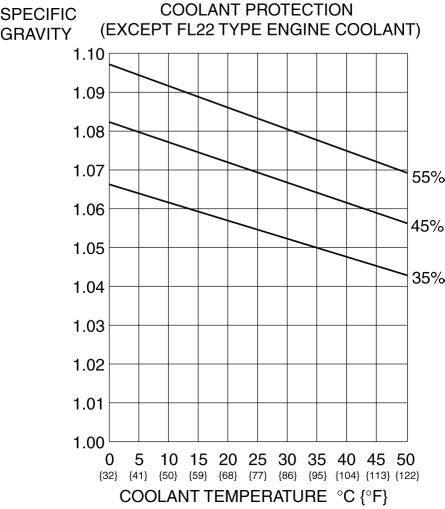 © 2016-2023 Copyright www.mcx5.org