Mazda CX-5 Service & Repair Manual: Electric Variable Valve Timing Actuator Inspection
WARNING:
CAUTION:
1. Disconnect the negative battery cable..
2. Remove the plug hole plate..
3. Remove the electric variable valve timing motor/driver..
4. Rotate the eccentric shaft of the electric variable valve timing actuator by hand and verify that it rotates smoothly.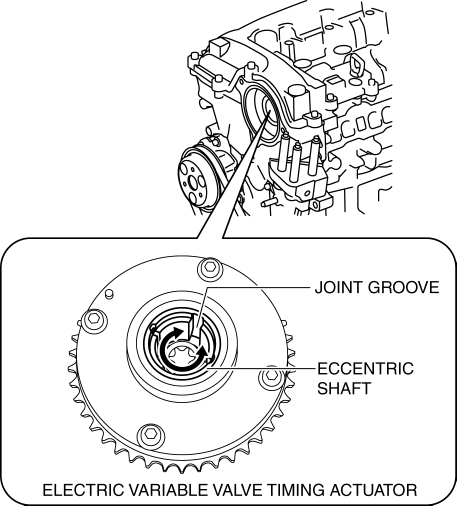 NOTE:
Hook a finger onto the joint groove of the eccentric shaft to rotate the shaft easily.

The eccentric shaft stops rotating at the maximum retard position when it is rotated counterclockwise as viewed from the front, and at the maximum advance position when rotated clockwise.

The eccentric shaft rotates 15.8 turns from the maximum retard position to the maximum advance position.
5. Install in the reverse order of removal.
© 2016-2023 Copyright www.mcx5.org