Mazda CX-5 Service & Repair Manual: Crash Zone Sensor Removal/Installation [Standard Deployment Control System]
WARNING:
Handling the crash zone sensor improperly can accidentally deploy the air bags and pre-tensioner seat belts, which may seriously injure you. Read the air bag system service warnings and cautions before handling the crash zone sensor..
1. Switch the ignition to off.
2. Disconnect the negative battery cable and wait for 1 min or more
..
3. Remove the front bumper..
4. Remove the bolt.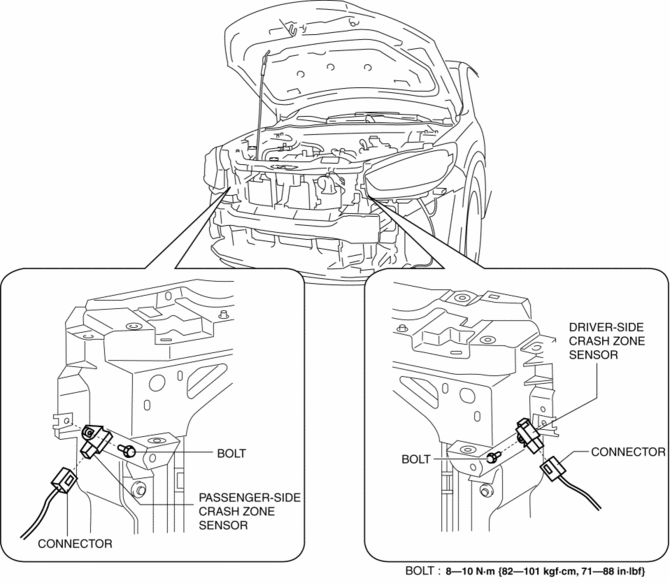 5. Disconnect the connector..
6. Remove the crash zone sensor.
7. Install in the reverse order of removal.
8. Switch the ignition ON (engine off or on).
9. Verify that the air bag system warning light illuminates for approx. 6 s
and goes out.
Connector Disconnect Note
1. Press the area (1) indicated by the arrow and slide it as shown in the figure (2).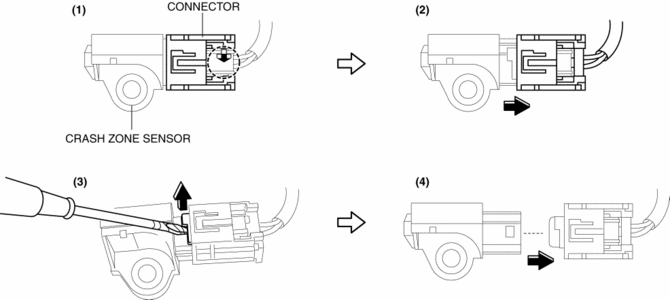 2. Lift up the location shown in the figure using a tape-wrapped flathead screwdriver (3) and disconnect the connector (4).
© 2016-2023 Copyright www.mcx5.org