Mazda CX-5 Service & Repair Manual: Tire Pressure Warning Alarm
Purpose
Function
If the instrument cluster receives a tire pressure warning alarm request signal sent from the DSC HU/CM via the CAN signal, the tire pressure warning alarm is sounded.

The tire pressure warning alarm sound pattern is as follows: For the conditions in which each alarm pattern sounds, refer to TIRE PRESSURE MONITORING SYSTEM (TPMS).

Tire pressure monitoring system operating




Tire pressure monitoring system initialization



Construction
Operation
1. The instrument cluster receives (1) the tire pressure warning alarm request signal from the DSC HU/CM.
2. The instrument cluster microcomputer turns the transistor on (2) based on the tire pressure warning alarm request signal.
3. When the transistor turns on, the ground circuit of the alarm is established and the alarm sounds (3).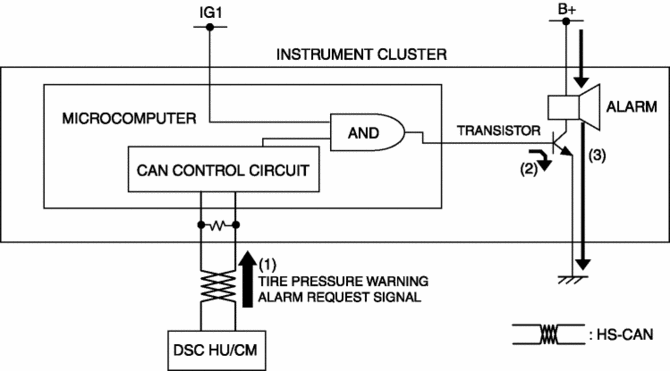 Fail-safe
Purpose, Function The tire pressure monitoring system warning light notifies the driver that it was determined that a tire pressure has decreased below the specified value based on the ...
Other materials:
Front Suspension
Outline A strut type front suspension has been adopted. The connection area of the front crossmember and body is a 6-point rigid mount type. The cross-section on the center member of the front crossmember has been expanded and the longitudinal offset of the ...
Awd Control Module
Purpose, Function The AWD CM calculates the optimal amount of torque distribution for the rear wheels and outputs a corresponding electric current to the electronic control coupling (AWD solenoid). This calculation is based on the accelerator pedal angle, four-wheel speed, engine spe ...
Tcs Control
Outline The TCS control actuates torque reduction through engine control, as well as using brake control to control traction. NOTE: Engine control: Engine output is lowered by fuel cut and ignition timing control to reduce the traction, preventing driving wheel slip. ...
© 2016-2019 Copyright www.mcx5.org