Audi A4 (B9) 2016-2022 Owner's Manual: Opening navigation
Applies to: vehicles with navigation system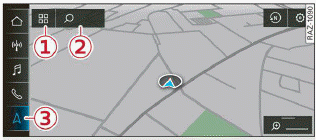 Fig. 140 Route guidance not started
The navigation system directs you to your destination, around traffic incidents, and on alternative routes, if desired.
Opening navigation
Applies to: MMI: Press NAVIGATION on the home screen.
After accessing the navigation for the first time, the map is displayed.
Opening navigation using the multifunction steering wheel
Select the Navigation tab in the instrument cluster.
To display navigation when route guidance has started, select in the instrument cluster: the button > Map.
The following functions are available in the MMI:
Select destination fig. 141.
Intelligent search
Switch between the map and the menu: press repeatedly until the desired function is displayed.
WARNING
The demands of traffic require your full attention.
The route calculated by the navigation system is a driving recommendation. Follow the traffic regulations that are applicable in the country where you are operating the vehicle.

In the event that the driving directions contradict traffic regulations, always follow the traffic regulations applicable in the country where you are operating the vehicle to reduce the risk of an accident.
Note
Read the information about Audi connect, and be sure to note the connectivity costs sectio in General information.
Tips
Snow and objects on the GPS antenna or trees and large buildings can impair satellite reception and affect the system's ability to determine the vehicle position. Several deactivated or malfunctioning satellites can interrupt GPS reception.
Because street names sometimes change, the names stored in the MMI may in rare cases differ from the actual street name.
Applies to: multifunction steering wheel: Depending on the selected function, operation through the MMI may be required.
Applies to: vehicles with Audi connect Infotainment: Depending on the country and vehicle equipment, additional services may be available.
An additional indicator will appear in the head-up display.
myAudi navigation
Applies to: vehicles with myAudi navigation
MMI navigation works seamlessly with the myAudi app.
Your destinations (favorites, last destinations) are synchronized through your myAudi account.
All important destinations can be displayed in the vehicle and in the myAudi app.
To load destinations in the vehicle automatically, Audi recommends logging into the vehicle with a myAudi user.
myAudi navigation functions:
You can send destinations and routes from the myAudi app to the vehicle.
Active route guidance in the myAudi app can be continued in the MMI.
Depending on the situation, it may be possible to continue active route guidance from the MMI in the myAudi app to continue navigating to the destination after leaving the vehicle.
© 2016-2022 Copyright www.mcx5.org